A brilliant flyer design can do wonders to help promote an event or product by making people feel excited about it. Artwork and printing are key factors in a leaflet or flyer's effectiveness, but the overall design – especially the use of colour– needs careful consideration for it to achieve its purpose.
With more and more media competing for eyeballs than ever before, it's a real challenge to grab people's attention these days. And the art of flyer design is a great place to get inspiration. Here are the best examples of flyer design that we've found, to help inspire your next project.
01. Zach Darlington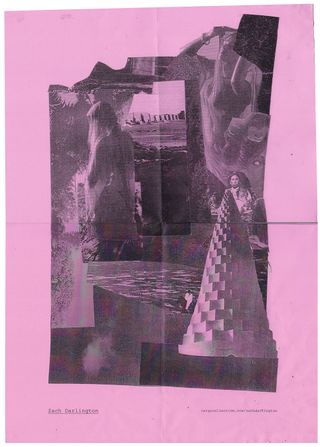 We love all the amazing things that you can do with Photoshop, Illustrator and InDesign, but sometimes you can't beat the old-school combination of a photocopier, scissors, glue and sheer bloody-mindedness. Good work, Zach Darlington, on this retro collage-style flyer.
02. Philipp Möckli
Created by Philipp Möckli in collaboration with Max Frischknecht, these A7 flyers for Konsens magazine really stand out thanks to Risograph printing, which uses a layering technique similar to that used in silk screen printing to produce multi-coloured prints
03. Design to Explain
Lil Joe was a startup enterprise providing children's entertainment products in the UK. Design to Explain created a brand identity design including business card, letterhead, envelope, postcard, CD cover, shopping bag, iPad and iPhone wallpapers, as well as this lovely flyer design that was used in local marketing to announce its opening.
04. Studio Orfeo Lanz
These flyers, created by Studio Orfeo Lanz for the ceramics department at the Bern School of Design, Switzerland, are the gift that keeps on giving. Publicising a graduation exhibition themed around the German word 'Verzogen', meaning twisted, the eye-catching flyer was designed to be turned and twisted into the exhibition poster.
05. Studio Mut
Studio Mut designed the identity and communication for Kunsthalle Bozen, a new art space in Bolzano, Italy, that wants to become a centre for hedonism and beauty, connecting Bolzano to the rest of the world. Studio Mut's identity design conveys this youthful spirit with anti-establishment, Just-Do-It-In-PowerPoint aesthetics and the use of stretched black and white type, as you can see from these in-your-face flyers.
06. Mondopolitani Art fest
Claudia Alexandrino is art director at Italian creative studio The 6th, and every year she creates the visual identity for the Mondopolitani Art fest. For the 2015 event she chose a striking colour palette and used Montserrat Regular and Bold to make this flyer.
07. Panama Plus
Panama Plus is a subculture festival of art, music, creative performance and writing. Munich-based design bureau Moby Digg, working in collaboration with ZOO, took the vibrancy of the festival as inspiration to create this vivid, colourful artwork. Each piece of material for the show features a circle filled with a different bright colour gradient which is then fed through a glitch generator. The result is a beautiful, eye-catching series of visuals.
08. Kari Feinstein's Style Lounge
Freelance graphic designer and illustrator Eugenia Anselmo used this creative type treatment to produce a digital flyer for Kari Feinstein PR. She actually made a selection of options for this brief, each of which is an interesting experiment with the same look and feel; take a look at the gallery on Behance.
09. Rundgang DMI
Rundgang DMI is an exhibition in which three university departments at HAW Hamburg – Design, Media and Information – showcase their work together. The promotional material therefore had to represent each separate department in a way that tied them together to make it clear it was a single show. Villa studio did a superb job, giving each department its own colour and type, while maintaining a single theme across the three flyers.
10. Général Sherman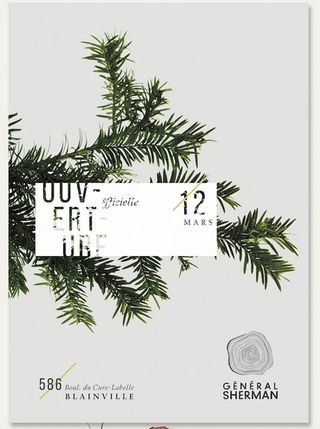 Général Sherman is a particular giant sequoia tree located in a national park in California, and also the name of a bar in Montreal, Canada. Design agency BZOING used the foliage of the tree and some beautiful type for its flyer. It fits nicely with the general branding for the bar, which incorporates photography of leaves, twigs, fruit and herbs.
11. Company Folders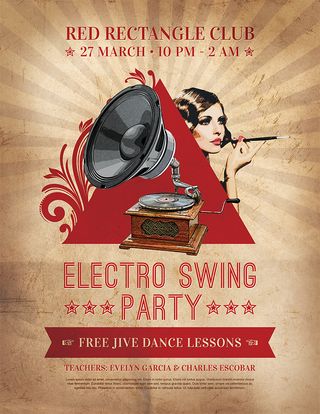 For a retro dance party with modern twists, Company Folders' team of designers chose vintage images on a background that resembles old, well-worn paper. We love how the girl peers out from behind the red triangle – which is a bit of hidden irony, given that the flyer advertises the Red Rectangle Club. Contemporary fonts and icons at the bottom help balance the vintage look.
12. Joanna Kosinska
Joanna Kosinska is a freelance graphic designer based in West Yorkshire who loves creating logos, websites and brochures. To drum up business she created this beautiful A3 Z fold flyer printed on 350gsm recycled paper. The illustrated cover folds out to reveal a little about herself and her skills, and on the other side is a capsule portfolio featuring a few selected samples of her work.
13. Manage Your Day-to-Day
To promote Manage Your Day-to-Day, a 99U book about how the way that we work has to change, Matias Corea, Raewyn Brandon and Jocelyn K. Glei from Behance created this fold-out flyer/poster. "The idea was to create a print piece that would give people a succinct overview of the book, while also giving them something with lasting value," says Brandon. 
"Thus, the piece folds out to create an active experience of learning about the book; then, when it's fully unfolded, the piece works as a motivational quote poster that you can tack up over your desk."
14. Says Who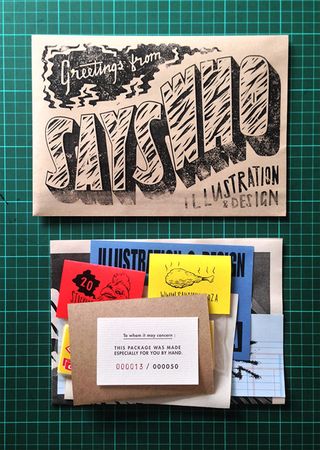 This promotional package for design collective Says Who was created by South African-based illustrator Shaun Hill and ticks all the right boxes. The Says Who Junk Mail pack includes a take-out menu, junk flyers, 14-page illustrated booklet, a poster as well as a pack of 20 chicken stickers.
"It was made from a variety of left over paper stocks, such as brown cardboard, an old analysis accounting books, newsprint pad, red and yellow poster board, and some old brown envelopes," Hill explains. "Each element was drawn and run through our photocopier, then finished by hand."
15. Cook&Book
For a Finnish-themed Christmas market at Brussels bookstore Cook&Book, French graphic designer Julie Joanny created this delightful festive flyer with a Christmas jumper vibe. We love the unlikely cross-stitched sharks, and the fact that if you pull at the orange collar an inner flyer comes out, with more details.
16. Loulou & Tummie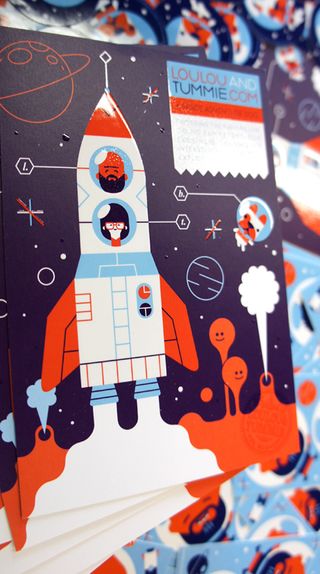 Artistic duo Loulou and Tummie's promotional material is out of this world! Known for their eye-catching vector work, this colourful flyer showcases their talents brilliantly, leaving the artwork to do all the talking and accompanied by a small, but necessary, amount of text.
17. 20 Fold
The brief for this project was simple: create a flyer that goes along with the folding theme of the California State University Graphic Design BFA Show, titled 20 FOLD. So, that's exactly what designer Darren Nguyen did. No matter which orientation the recipient chooses, the sophisticated design places all the necessary information above the fold.
18. Mixed Taste
This eye-catching design was created by Ellen Bruss Design to highlight a series of lectures at Denver's Museum of Contemporary Art. To promote the workshops, which pair two completely unrelated topics together, the flyer features a beautiful illustration of disjointed imagery. The design was completed with a thermographic print job, leaving it with a plastic, bumpy texture, which complements the illustrative style.
19. Drop Inn Hostel
This is a simple but brilliant concept for the Drop Inn hostel, based in Singapore. Created by local creative agency Bravo, this luxury and stylishly designed O-shaped flyer informs each recipient that the hostel has, in fact, dropped its vital vowel and will therefore reward guests who return them with a discount on room rates.
20. CSUS Spring Show
To promote its student show back in Spring 2011, California State University, Sacramento commissioned designer Christine Jackson to create these promotional flyers.
The threading of various icons in the design cleverly demonstrates both the artistic side and connectivity of the graphic and interior design and photography departments.
21. Mehrblick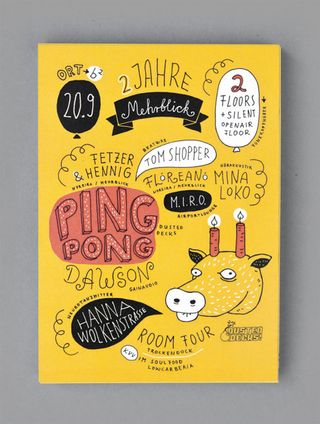 This flyer for the two year anniversary of Mehrblick Events – an electronic music festival with lots of confetti and decorations – was designed by Germany-based artist Alexandra Turban. We love the playful execution and array of inspiring typography on show.
22. Hawes & Co.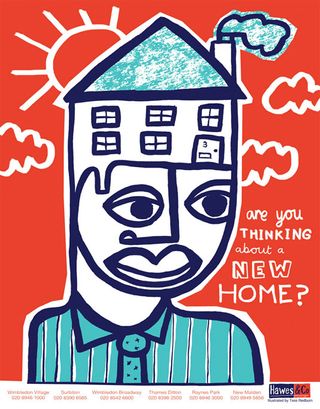 Tess Redburn is a UK-based illustrator with a knack for eye-catching flyer designs. Having been snapped up by a number of festivals, companies and businesses, her colourful and surreal illustrations provide the perfect execution and inspiration for any flyer.
23. Pastilla Digital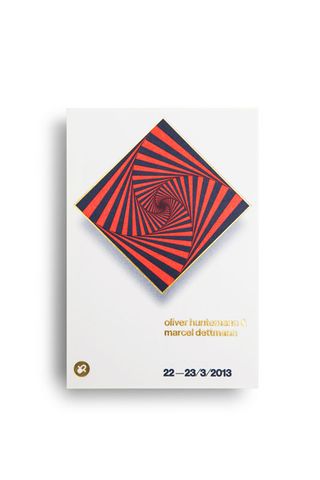 This gorgeous flyer was created by Mexican agency Monumento (formerly called Face) for Pastilla Digital. "From the very beginning the goal was to design without limits, to experiment with all sorts of different materials, inks, and finishes, and to create an output of stunning, stimulating visuals that people can't help but want to collect," they explain.
24. Muah!
This custom typography, silkscreen flyer design was printed on limited run in special colour edition in A5 size. We love the experimental layout and the careful selection of colours. Designed by Czech Republic studio Anymade– we love their style.
Next page: